-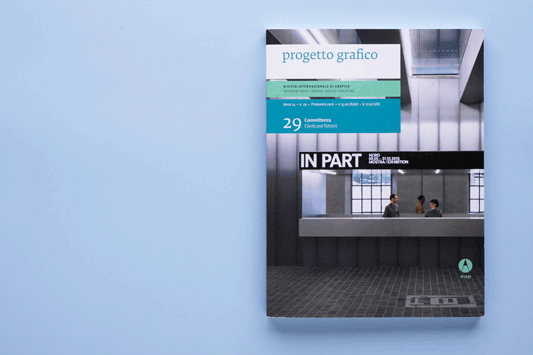 -
-
Progetto grafico #29 is hot from the press with the article "the imagined client" written by Gianluca Camillini and Jonathan Pierini.
-
In this article we introduce the figure of the imagined client as a way of examining various areas of graphic design and seeing how the monolithic and traditionally accepted designer-client relationship has today taken on a new form. The imagined client is a character to whom we can give an identity. It is the client as we imagine them, the client we want but also a client that you cannot and no longer want to define a client: the public, your partner in crime or in need.
-
This issue, among other things, features contributions by Giovanni Anceschi, Evelina Bazzo (Umbrella), Marco Benvegnù (Arper),Emanuela Bonini Lessing, Marianne Burki (Pro Helvetia), Juliette Cezzar (Parsons School of Design), Stefano Coletto (Fondazione Bevilacqua La Masa), Giovanni De Mauro (Internazionale), Stefano Faoro (Jan van Eyck Academie), Davide Fornari, Jo Frenken (Jan van Eyck Academie), Steven Heller (School of Visual Arts NYC), Kido Hideyuki (DNP Foundation for Cultural Promotion), Antonio Cesare Iadarola, Krisis Publishing, Sheila Levrant de Bretteville, Veronica Maccari, Julien Mercier, Armand Mevis (Werkplaats Typografie), NORM (www.norm.to), YuJune Park (Parsons School of Design ), Luciano Perondi, Jonathan Pierini, Mark Porter, Project Projects, R2 design, Christina Reble (Museum für Gestaltung Zürich), Giorgio Ruggeri, Silvia Sfligiotti, Adrian Shaughnessy (Royal College of Art), Leonardo Sonnoli, Mariko Takagi, Lita Talarico (School of Visual Arts NYC), Laurent Ungerer (École nationale supérieure des Arts Décoratifs), Carlo Vinti, Huib Haye van der Werf (Jan van Eyck Academie)
For further info click here.

-